BFA Remote Support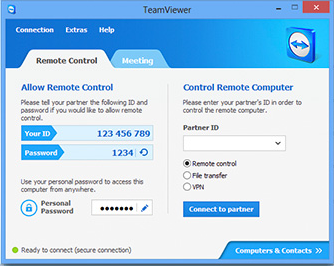 BFA Technologies, Inc. has spent the past 10 years putting our customers' needs first; and that's the foundation for our growth year after year. When possible, we strive to work with every customer in a face-to-face interaction. But there are times when we cannot physically get to a customer within the time frame they require; and so in these cases, BFA Technologies, Inc. has partnered with TeamViewer to enable us to help every client...no matter where they are.
TeamViewer enabes BFA Technologies, Inc. to screen share with our clients in a safe environment. Unlike many other screen sharing tools available, TeamViewer has a cycling password that needs to be given to the support staff every time. In this way, no one can access a client's computer without the client's consent and direct involvment.
BFA is proud to offer both Apple and PC support with TeamViewer. To download TeamViewer, just click the appropriate button below that corresponds with your computer type. Then simply install the software and give the technician your ID and password. That's all there is to it!