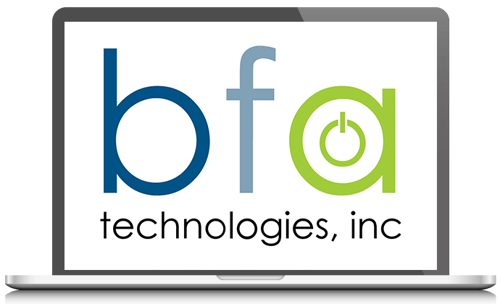 Before continuing to BFA's full website, we thought it would be helpful to lay out a little more about the
Apple® Consultants Network (ACN)

What is the Apple® Consultant's Network?

• The Apple® Consultants network (ACN) is a community of individual organizations (businesses) who have been certified as Apple® IT consultancies
• The organization is managed by a dedicated team of Apple® employees at Apple® corporate
• In the United States, the size of ACN membership varies, but normally consists of several hundred member organizations
• To assist the corporate ACN organization, there is an advisory council consisting of (10) select members of the ACN community
• The members of the ACN advisory council are hand-selected by the head of the ACN organization, and their term is limited to 3 years
* Bob Garst, founder/owner of BFA, previously served on the ACN council from 2013 to 2016

• To become members of the Apple® Consultants Network, individuals in an organization must pass a background check as well as a minimum Apple® IT competency test
• Organizations become members based on the ACN status of an employee (or employees)
• There are various Apple® competencies that a member of the ACN might hold. For example: Mac® and/or Mobility
• Beginning in 2018, the ACN organization will be adding many 3rd party "specialty" competencies that a member of the ACN might hold as well
• Listing both Apple® and relevant 3rd party certifications on the ACN locator website will allow visitors to the site to make a more informed choice
The number of individual Apple® consultants for each ACN organization is available on their respective sites in the ACN portal. While this number carries a certain value, we feel that another important criteria is perhaps the amount of each consultancy's business that is Apple® related. For example, BFA is aware of several outstanding, one-person ACN organizations; but their focus has unquestionably always been Apple®. Conversely, a large, traditionally Windows®-only company might be found on the ACN locator on the merits a single Apple® certified employee. But yet Windows® would most likely remain their primary focus. Bottom line, don't be afraid to ask questions in searching for the right Apple® partner for you.